A cold porcelain tutorial from Biscuit magazine and the Brazilian site
Artesanatonarede
. Translated to English as best as possible. Two stylized cats hugging a heart and each other!
These instructions call for homemade cold porcelain, but many brands of commercial air-dry clay would be suitable for this project. This is also a good beginners project.
Materials needed:
Cold porcelain paste (abbreviated here as CP)
~ Pre-tint CP in your choice of colors using acrylic paints or
gel colorants
Acrylic Paints plus paintbrush
Glue
Galvanized wire
Pliers for cutting
Step 1. The tabby cat is made from 2 colors of cold porcelain, twisted together for a marbled mixture of color.
Step 2. Shape the CP into a drumstick and flatten the bottom by pressing it on a flat surface. This will be cat's body.
Step 3. Shape an egg for the head.
Step 4. Pull and model the CP to shape two ears at long side of "egg". Place an ear on either side of cat's head.
Step 5. Insert a wire in the body of the cat to reinforce neck.
Step 6. Attach head using glue.
Step 7. Repeat above steps for another cat, this time using a solid color.
Step 8. For the legs, make two balls of CP and model into an elongated drumstick shape.
Step 9. Bend leg in half with the widest part up (at hip).
Step 10. Glue to the body of the cat. (see photo of finished figure for placement)
Step 11. Make the lower legs of the other cat in the same way.
Step 12. Flatten the tip of the cat paws and indent some toes with clay tool.
Step 13. Do the same with the other cat.
Step 14. Position cats next to one another.
Step 15. Let cats dry while you make a heart. Shape a heart-shaped drumstick from red clay. Flatten slightly.
Step 16. With a clay tool or knitting needle, indent center of heart and refine shape.
Step 17. For each tail, make a snake in matching color.
Step 18. Curl the ends of the tail and let dry.
Step 19. Glue the heart in front of the 2 cats.
Step 20. For the front legs (arms), make two snakes in each color! Flatten and indent the toes.
Step 21. Model 4 front legs (or call them arms!). Each leg will be glued at shoulder.
Step 22. Glue 2 arms (1 for each cat) holding the heart.
Step 23. Attach other 2 arms with glue. Position in back in a loving hug.
Step 24. The nostrils are small triangles. One white, one black.
Step 25. Glue the little nose to the middle of each face.
Step 26. Dimple the middle of the nose with a small mark. You could give nose a heart shape, if desired.
Step 27. Let cats dry and then paint eyes. Design your own eyes or follow these instructions. Start with an base coat of white in an oval or almond shape.
Step 28. Paint a second layer of blue for the boy cat.
Step 29. And paint hers pink.
Step 30. Outline in black using paint or a Sharpie marker. Add pupil. Make an inverted V for mouth right below the nose.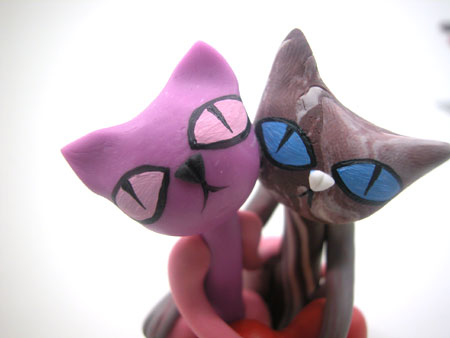 Step 31 Once the tails have dried, attach each to back of body.
The finished Cute Cat Couple! Make some more as gifts!